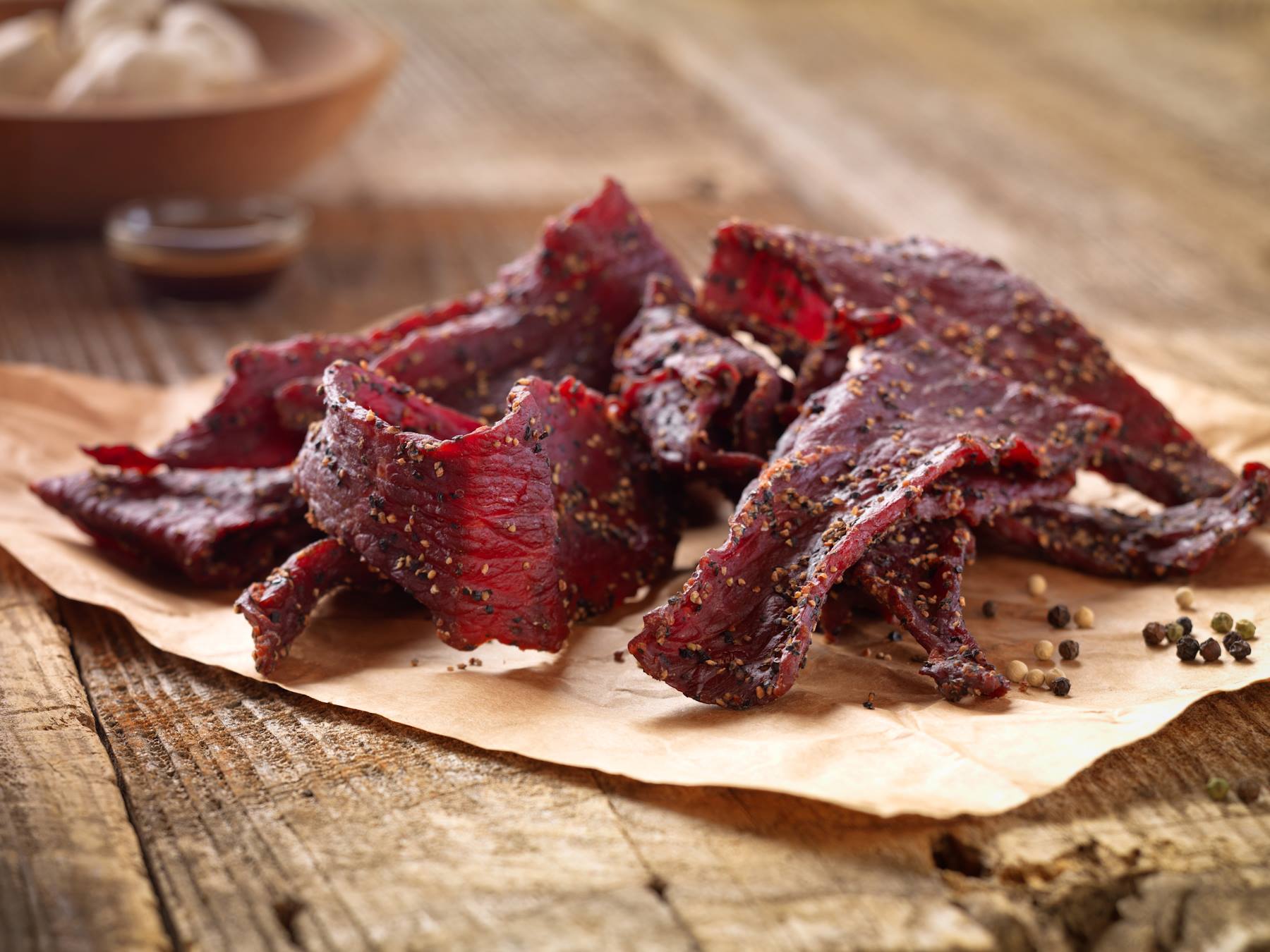 From adventurous flavors to healthy varieties, meat snacks innovate to keep pace with consumer trends.
In all areas of food service, consumers crave more choice, variety and taste. They want to know what is going into their food. And they want to know that it's good for them. So it should be no surprise that these experiences have moved into the meat snacks category, beginning with flavor.
"As it relates to unique ingredients, we're seeing quite a few trends — jalapeño, teriyaki, sweet and hot, hot and spicy, cheddar cheese, sugar maple, and sea salt and pepper are some of the flavors that have grown extensively over time," said Carly Schildhaus, public affairs manager for the National Confectioners Association (NCA).
In addition to a taste adventure, consumers also want health benefits like no allergens, gluten free, no preservatives, low-fat and all-natural. With consumer interest in healthy proteins at an all-time high, meat snack producers have listened to consumers, and products have moved beyond sticks of beef or tubs of jerky next to the cash register.
"Meat snacks have grown in recent years as our consumers are more educated about what they're putting in their bodies," said Joe Bortner, category manager at Rutter's. "It's no longer a category just for 'Bubba.'"
Indeed, the category has expanded to snackers, health-conscious shoppers, teens and every age demographic. Meat snack sales have grown in recent years, with total meat snack dollar sales up 33% since 2013, according to IRI data. Nielsen predicts annual  growth of more than 4% for meat snacks through 2022, from a category that is already a $2.8 billion business in the U.S.
Beyond Beef
A Mintel study showed 41% of consumers want premium meat in their meat snacks, no matter the type of meat. FONA International's Trend Insight Report on meat snacks surveyed the "most appealing types of meat" and found beef at 80%.   
"Beef is the most dominant," said Krisanne Flamini, category manager — total snacks, confections and packaged cakes at Wawa. "The core meat offer is what continues to drive the category, while niche items help bring excitement and new users."
However, the study also showed that nearly half were interested in chicken, turkey and pork. Bison (34%), venison (27%) and salmon (26%) also received more than a quarter of the responses. Sales reflect those views.
"Beef and pork are the top sellers; however, we've had success with brands that feature venison, boar and others," Bortner said.
Still, the desire for animal protein in snacks focuses on the "big two," regardless of additional flavors.
"Combined total poultry and red meat production is up 15% since 2009, including an estimated 2% gain for 2019," said Tom Super, senior vice president of communications at the National Chicken Council (NCC). "Consumers have more animal protein to enjoy and will likely continue to see that at least for the next two years."
The NCC cites United States Department of Agriculture (USDA) statistics that show that, in 2018, per capita consumption of beef was projected to be 57.9 pounds, while chicken was projected to be 92.5 pounds. Add in pork and turkey, and total red meat and poultry consumption is 219.6 pounds per capita. That's a lot of meat. Combine that with the desire for faster foods, on-the-go snacks and portability, and that's the perfect storm for an increase in meat-based snacks.
As consumers move to leaner meats, chicken snacks have taken off.
"Chicken marketers eye the prepared food segment at c-stores knowing $7 of $10 in in-store food sales are spent on this category," Super said. "Much of this $7 is purchased as a snacking occasion."
And customers increasingly want those snacks to include interesting flavors and health benefits.
"Many current trends are being driven by increased interest in unique flavors and combinations of flavors, including multicultural and global influences," Schildhaus said. "Consumers are 'flavor explorers' more than ever before as they seek new experiences — this has proven especially true with millennials. Companies are responding positively, whether through the introduction of completely new products or adapting their existing offerings to match consumer demand."
That demand is leading to new products like Foster Farms' Bold Bites On-The-Go Chicken Snacks and Yappah Chicken Crisps.
"Chicken marketers are working diligently to leverage chicken's broad appeal so c-store operators can take full advantage, especially for on-the-go, hand-held snacks," Super said.
Appearance Matters
Packaging also matters. Whether it's catering to those with diets like Paleo, Whole30 or gluten free, or attracting new customers, packaging has evolved with lists of ingredients, adherence to diet and clear health, flavor and taste options.
"I value packaging within our set," Bortner said. "I believe it's important for consumers to see exactly what they're getting. A clear, tightly-sealed pack that shows off the product performs best. It goes right in line with the idea that our consumers want to see exactly what they're getting."
Size matters, too. "The bigger the better," Bortner said. "We're having a lot of success with larger-ounce bags. This trend seems to work at all locations. For 2019, we've dedicated more space in all footprints to 10-ounce and larger bags."
With increased demand, retailers must carve out space for new products, and manufacturers must identify the next trend. "This heightened competitive market environment motivates marketers to continue to better understand and execute effective programs regarding how best to slice and dice the many sub-market segments and product categories," Super said.