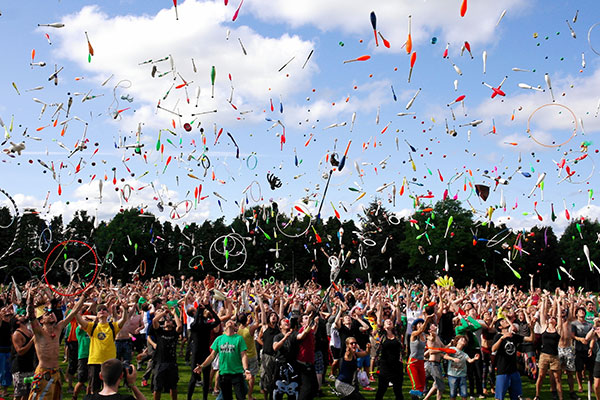 How to Use Branded Facebook Groups to Launch and Grow a Community
Social Report Blog | April 23, 2019
Branded Facebook groups are all the rage in the Facebook marketing world—and it's easy to see why.
In 2018, Facebook shook up the marketing world by drastically changing its algorithm in response to the Cambridge Analytica scandal.
This change prioritized content from groups, friends, and other content "that matters" on newsfeeds.
Consequently, this also pushed content from pages to the bottom of the newsfeed, effectively killing organic reach for pages.
Strangely, however, Facebook also introduced branded groups in 2018—this new groups feature gave brands the ability to associate groups with their page, creating community around its products.
Thousands of brands have used branded groups as a way to recover lost page reach and get their posts to the top of newsfeeds.
But brands need to take special care when running branded groups. These are hugely different than standard brand pages as group members expect different types of content that spark conversation and share knowledge.
So in this article, we'll show you how to make a branded Facebook group that builds community in your industry. The article will start off by walking you through the page creation process and then dive into content strategy.
Sound good? Let's jump in!
1. Creating a branded Facebook group
Building a Facebook group for your brand is largely the same as building a Facebook group for any other reason—there are just a couple special features to take advantage of when you build out your group.
Here's how to create your branded Facebook group:
1. Start by making a new Facebook group
To do this, just head over to
Facebook's group creation page
and click the 
create group 
button at the upper right-hand corner of the screen.
In the pop up window, input the name for your group and choose whether or not you want your group to be public or private.
But here's the question: should your group be public or private?
We've always been proponents of keeping branded Facebook groups private. This creates a sense of exclusivity that entices new members, retains them, and keeps group secrets within the group, encouraging people to share more.
2. Completely fill out your Facebook group's bio, cover photo, and other settings
Congrats! Your group is now built, live, and ready for action… but we're not done just yet.
Now, you need to fine-tune your group with a cover photo and other auxiliary features that make your page complete and fully functional.
First off, let's add your cover photo. Follow our guide on creating a Facebook cover photo that converts, and then upload it to your new group by clicking the upload photo button at the top of the screen.
Then, click the more button and hit edit group settings from the drop-down menu. In this screen, you'll fill out a few key aspects of your Facebook group that will drive membership and truly complete your group.
Here's what to fill out:
Pick a Group Type: select the type of group you're running so it's properly tagged in Facebook's system.
Description: give an overview of what your Facebook group is all about—follow our guide to Facebook bios for inspiration.
Location: running a location specific group? Tag the location here.
Tags: add a few related tags to your Facebook group, this will help your Facebook group appear in more search queries.
Web Address: make a custom web address for your group—it will be formatted as follows: "facebook.com/groups/[your name]."
Posting permissions: we recommend enabling post moderation—doing this will let you see what's posted to your Facebook group before it's live.
Linked Pages: link your brand's Facebook page to the group. Your group will then appear on your page, and vice-versa, expanding your reach and proving that your group is indeed powered by your brand.
Membership Approval: we recommend setting this to admins only so standard group members cannot approve new member requests.
Configure these settings and then take a look at the rest of the options on the page. Edit what you deem necessary, and click the save button at the bottom of the screen. Your Facebook group is now ready for action!
2. Inviting members to your Facebook group
Next up, let's invite your current audience to your Facebook group. Just grab an email list and add individual email addresses to the Add Members section of your group. This is located right underneath your cover photo.
The emails you add to the list will get an email invite to join your group. If the email address is linked to a Facebook profile, they'll get a notification on Facebook too.
Doing this lets you immediately notify your existing leads and customers about your new Facebook group, giving you a solid starter audience of people that already care about what your brand is doing.
Embed an invite button on your website, too
Facebook recently added embeddable "join group" buttons to Facebook groups too. You can find the embed code for your group right above the add members box on your group, so take this code and add it to your newsletters and website footer.
Doing this will encourage new leads and customers to join your group without any interaction on your part. Here's what the button looks like:
Social Media Marketers Union Powered by Social Report
Closed group · 350 members
Welcome to the Union! The Social Media Marketers Union is the place for social media marketers and managers to connect. Here, you can network, discus…
3. Building community and sparking engagement
So, you've created your branded Facebook group and you're ready to start posting.
But before you dive in, check out these tips for you—these will help you create engaging content that will spark engagement amongst your group members.
Curate your content around your industry, not your brand
We recommend focusing your Facebook group and the content it posts around the industry you're a part of, not your brand. This will make it easier to spark discussion and engagements on your posts, and shows that your brand actually cares about the industry it's a part of.
Plus, it creates awesome opportunity for you to sell your products to new people. After all, a potential lead isn't going to join your group if it's about a product they know nothing about, instead, they want to hear new industry insights.
So with that in mind, do some research and post content and opinion pieces about industry happenings and things related to what your target audience loves.
Frequently post your best content
Post your blog posts and other in-house content to your Facebook group. Make sure to add a call-to-action when you do this too in order to spark conversation and boost engagement while driving traffic back to your website.
Don't be afraid to recycle content either. Chances are not everyone will see your content the first time you post it, so there's no shame in reposting it a couple times (so long as it's spread out) in order to get it in front of all of your audience.
Cool enough, Social Report can actually do this for you. Just built out your Evergreen Content library and set it to run on a posting schedule. Social Report will then repost content from the library whenever there's an open slot in your posting schedule.
Keep your audience informed with the industry with third-party content too
Don't just post your in-house content though. Mix it up and post third-party content from industry blogs, newsletters, and YouTube channels too.
This will give your group members more valuable info and show that you truly care about their development in the industry. Plus, let's be real: posting a bit of third-party content will make your life easier too 😜
Consider using Social Report's Link Frames feature when sharing third-party content.
This lets you brand third-party content with your own logos and call-to-action buttons, letting you drive traffic back to your site from third-party posts.
Use Facebook Live at least once a week
Another great way to build a loyal and engaged Facebook group audience is by using Facebook Live on a regular basis—preferably weekly or bi-monthly. On these live streams, host special guests and share insights that are exclusive to your Facebook group.
Check out our full guide to Facebook Live for groups for a how-to and more inspiration. Trust us, you can't afford to miss out on these insights when embracing Facebook Live for groups.
Polls spark easy engagement
Finally, Facebook polls work 
super 
well on Facebook groups. These make it easy for group members to interact with one another and voice their opinions on a topic of your choosing.
This largely has to do with the fact that voting on polls are easy. The audience member doesn't have to type anything, instead, they can just click on the option that best describes their opinion on a set subject.
Just make sure to keep your polls lighthearted. Heated discussions are never ideal in the case of a branded Facebook group, and could cause an unwanted flame war in the comments.
4. Managing your Facebook group (with Social Report)
Now, make your Facebook group posting experience easier than ever by using Social Report to manage your Facebook groups, pages, and profiles.
The app has a full-featured Facebook groups posting. Just add your group to the app, and you can post from admin accounts right to the Facebook group. You can schedule posts, and even use our Evergreen Content and Content Syndication features to automatically schedule new posts for you.
Further, Social Report has a full suite of Facebook group reporting tools that can show you how your posts are performing, let you track your audience growth, and otherwise ensure that your group is on track to success.
Some of the awesome reports you can pull include:
Overall engagement timeline
Engagement distribution by content type
Audience breakdown
And more!
Of course, Social Report isn't just limited to Facebook. You can also use the app to schedule to Instagram, Twitter, Pinterest, and a slew of other social networks, giving you a one-stop-shop for all things social media marketing.
Want to try Social Report for yourself? Sign up for a 30-day free trial today—we promise you won't be disappointed!
Bottom line
In this article, you learned how to use Facebook groups to grow a community around your brand. Do this right, and you'll be rewarded with more engagement, heightened organic reach for your posts, and—in turn—more leads and conversions.